Long Bay.
Auckland really is the place to be.
An enviable coastal lifestyle, great schools, world-class healthcare and plentiful job opportunities make it one of the world's most desirable cities to live in.
But sadly, it's becoming increasingly tough to get a foothold in this popular market. The good news is, all this can be yours for less than you might think when you become a proud Auckland property owner at The Reserve in Long Bay.
Blessed with ocean and coastal views and just minutes from the beach, you can enjoy a coastal life with great accessibility to the City in a brand new apartment from as little as $650,000.
City living isn't for everyone. Anonymous roads where your only view is rooftops. Congested streets where it's a battle to park. Beaches you need to drive to. And that's before you consider the high prices of City homes, let alone the inflated cost of a flat white. An apartment at The Reserve in Long Bay avoids these stresses and extra costs of City living, while giving you the best of Auckland.
Architecturally designed spaces, many with ocean views, give you a sense of luxury and freedom. Getting where you want to go is easy, whether it's to the shops, eateries or neighbouring bays. And right on your doorstep, you've got the beautifully maintained Long Bay playground, large Regional Park and endless white sandy beach. With easy access to the CBD by motorway or Northern expressway by bus, The Reserve offers you the all-round Auckland life you've dreamed of, at a fraction of the price.
The Reserve - It's Got Your Name On It
Due for completion in 2019, this is your chance to reserve the coastal lifestyle you deserve. The Reserve has home sizes to suit everyone - whether it's your first property or an ocean lock-up and leave - with a choice of spacious one, two or three bedroom apartments.
Comprising of two iconic four-level buildings with basement parking, most of The Reserve's apartments have sunny northern aspects. Many also enjoy spectacular views to the east towards the historic Vaughan homestead and stream as well as the beach.
Each building has its own ground floor entry lobby, with a central courtyard designed by renowned New Zealand landscaper Robin Shafer, to create a communal focal point.
At Home With Nature
Long Bay is where land meets ocean, which provides the inspiration for The Reserve's eye-catching yet effortless design.
A white brick facade with textured layers emulates the white sand and layered sandstone of Long Bay beach. Gabion cages in the retaining structures, base and courtyard create waterways and embankments, which are typical of this coastal environment. And this theme continues with timber decking and platforms, reminiscent of structures that bridge water and land.
Green walls around the base soften the construction, echoing the puriri and Pohutukawa forests which surround the Vaughan homestead. While generous swathes of native grass and flax, typical of those found in nearby wetlands and sand dunes, also add to the impression of The Reserve being at one with its natural surroundings.
Free Your Senses
The sensation of freedom created by Long Bay's ocean breezes, white sand beach and lush green spaces continues into The Reserve itself.
Fresh and airy ground floor lobbies lead to four floors of stylish and generously proportioned one plus study and two bedroom apartments as well as highly desirable three bedroom penthouses. Clever interior layouts maximise the use of space and storage, with the flexibility to configure the living area to suit the way you like to live. All apartments have their own private balcony, with most enjoying uninterrupted views of either the ever-changing ocean or rolling countryside.
Share Your Passions
The kitchen and dining area of The Reserve's apartments are the perfect environment in which to spend time with family and friends. A well-appointed kitchen with high spec equipment and plenty of surfaces is a cook's delight, making it easy to prepare your favourite dishes while you talk about life in the Bays.
There's plenty of room for a sizeable dining table and chairs, and once the meal is finished, you can all retire to the living area to watch a movie or simply put your feet up and relax.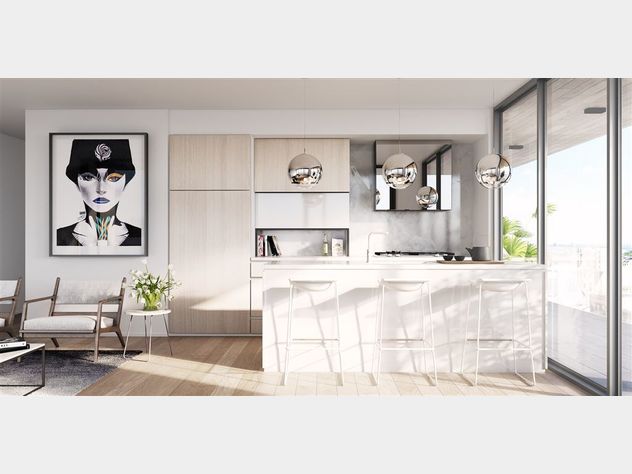 Chilling out, Freshening Up
Refined bedroom designs with touches of luxury and plenty of storage are perfect for relaxing or having a good night's sleep.
Sophisticated bathroom designs bathed in natural light, incorporate clean lines and sleek modern units.
Out and about
Quality coastal homes in Auckland are at a premium, which is why The Reserve in Long Bay represents a special opportunity. Careful town planning is encouraging a measured growth of the community, with road layouts and infrastructure designed to make living easy. New retail and dining developments, as well as a supermarket, are being built to cater for residents, and there's plenty in the area to keep you healthy, happy and entertained.
By foot
Long Bay beach 1.4 km
Long Bay playground 2.1 km
Okura Marine Reserve walking track 12.1 km
By car
Albany (Westfield, Event Cinemas etc.) 16 mins
Browns Bay (shops, eateries, beach) 12 mins
Mairangi Bay (shops, eateries, beach) 19 mins
Silverdale Adventure Park 20 mins
Snow Planet (indoor skiing) 25 mins
Silverdale (outlet stores) 20 mins
Auckland CBD 35 mins
Puhoi (historic town and pub) 30 mins
Matakana (vineyards,farmers' market) 50 mins
Warkworth (boutique shopping) 45 mins
Goat Island (marine reserve, diving) 60 mins
Perfectly Positioned
Being a short drive from State Highway One means that living at The Reserve makes it easy to access the south and north.
Auckland's Viaduct, Wynyard Quarter, CBD and other attractions are 35 minutes away by car. If traffic is heavy, you can always guarantee a clear run with Northern Express buses which depart regularly from nearby Albany bus station.
Similarly, direct access to the highway means that the picturesque towns, villages and countryside to the north are also straightforward to get to.
You Can Have It All
New Zealanders and those from overseas are desperate to live in Auckland. Is it any wonder with its job opportunities, fine education and healthcare systems as well as a laidback coastal lifestyle? This desirability means that demand continues to outpace supply, with prices steadily climbing in recent months and years.
Long Bay offers many of Auckland's attractions, which is why average house prices in the area are already topping $1 million.
As beautiful Long Bay begins to grow and flourish, now's your chance secure the lifestyle you deserve - at The Reserve.
You can have it all - enquire now.
Martyn@impression.co.nz